The constant challenge for the KFA,
the leader of the Smart Factory, continues.
Smart Factory
Smart Factory
Smart Factory includes everything from product development to mass production, market demand forecasting, from parent company orders to finished goods shipment, and vertically includes all areas of field automation, control automation and application systems.
We, Korea FA System provide real-time aggregation, real-time material flow, lot-tracking, quality analysis, real-time monitoring, automatic equipment control, and interworking with other systems. Furthermore, we are providing an integrated system aimed at autonomous plant operation through intelligent facilities and systems that judge themselves by connecting equipment, materials, and each systems to a wired/wireless network.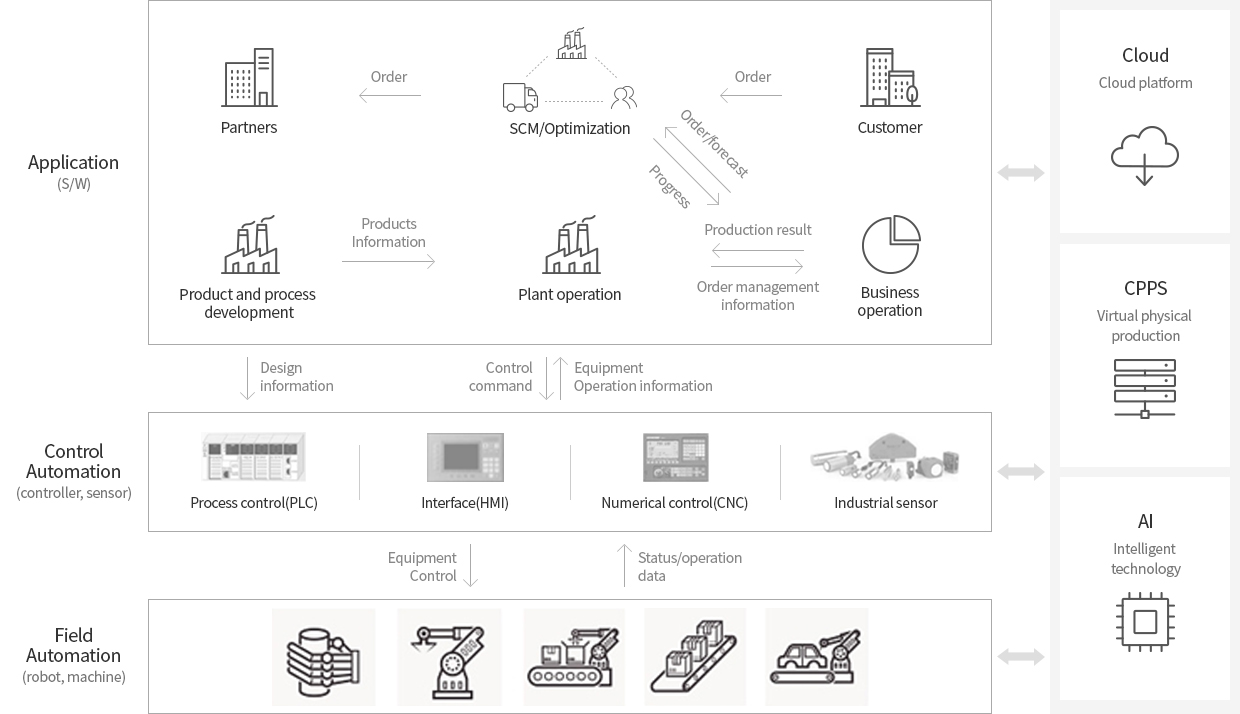 Consulting
We supplies verified and optimized consulting services based on the accumulated know-how and structured experience to achieve the best competitive power to the customers.
MES

Extracts the AS-IS process issue and presents the improvement target
Presents optimal MES deployment plan
Establish system for continuous process monitoring and improvement/management

MES Diagnosis and deriving improvement direction
AS-IS process diagnosis, analysis and modeling
Establish change management system

Solution

Supplies the most suitable solution as per production environment

(Plan/Production/Process/Quality/Equipment management and Process logistics, etc.)

Sytem Construction/ Operation

Supply the most suitable system to implement the standardized process
User Training & Technical Support

System Design/Development/Installation/Try-Out
System Operation/Maintenance
Supply MES Solution
The automation of the production line is changed from automation for single machine to FMS(Flexible Manufacturing System), and it is integrated with computer. The MES is contributed to improve the productivity and quality by collecting and analyzing the information in the production activities and providing the most suitable functional solutions (Plan/Production/Process/Quality/Equipment management and Process logistics, etc.)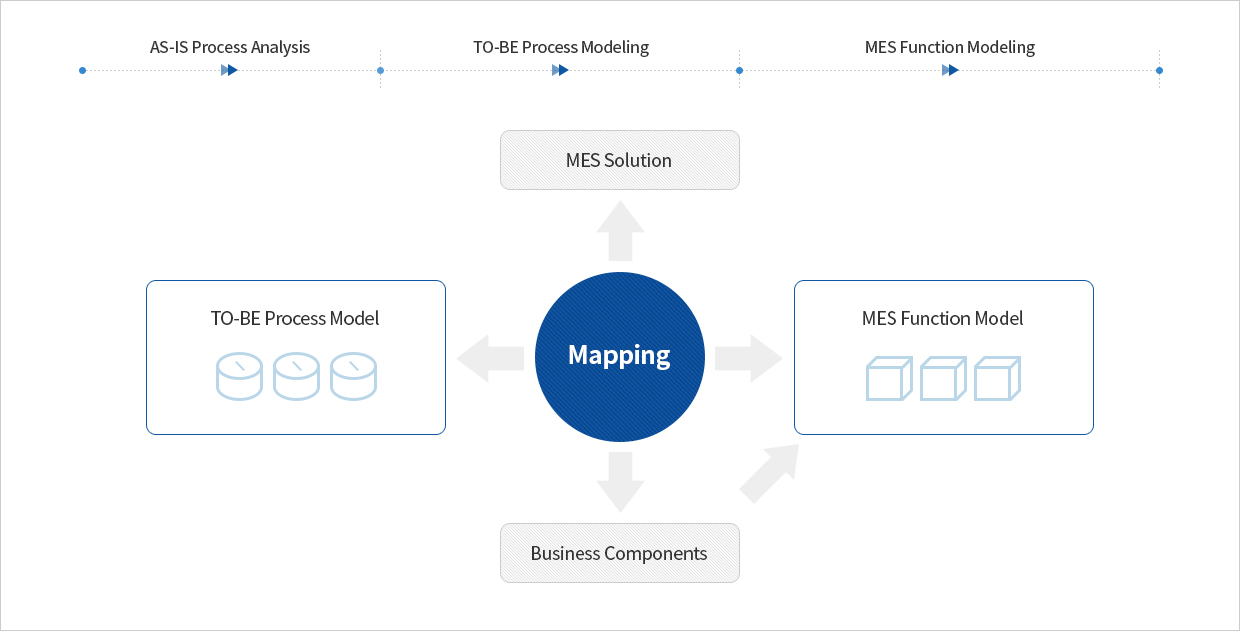 KFA Function Model
Planning
Control
Order
Mgmt.
Result
Mgmt.
Progress
Mgmt.
Quality
Mgmt.
Process
Mgmt.
Equipment
Mgmt.
Logistics
Mgmt.
Status
Mgmt.
Others
Operation/Maintenance
Unfortunately, sometimes the system is not available because of unexpected problems and errors. The maintenance of the MES means specialized technical services for the unexpected problems to prevent the loss of significant information, and reduce the cost by immediate maintenance.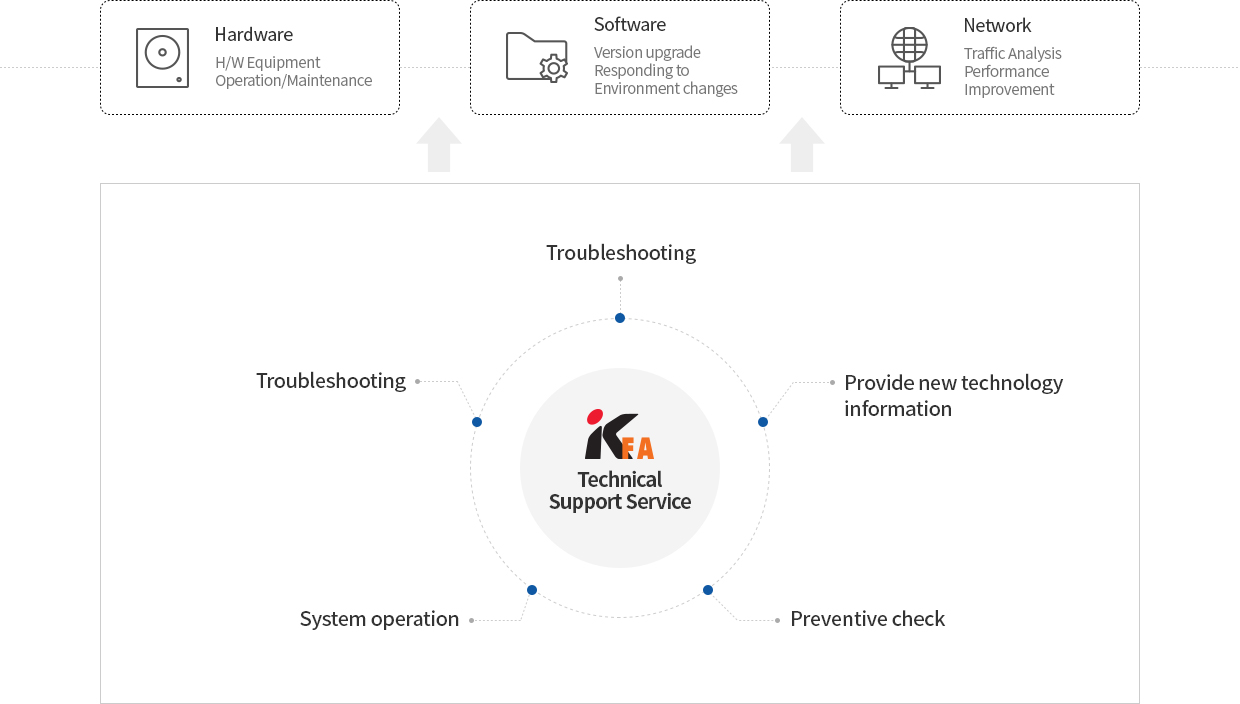 Equipment Supply & installation