The constant challenge for the KFA,
the leader of the Smart Factory, continues.
Overview
The RFID Tag have the memory which can store the information from several Byte to several K Byte, and it is possible to read and write the information through antenna. When the product which tag is attached is passed the Antenna, read the tag information automatically and transfer the data to PC. The communication between Antenna and PC are standardized with Ethernet, RS-422, RS-232 and exclusive network.
System Configuration
Application Sample
Application Sample(Automotive Manufacturing Plant)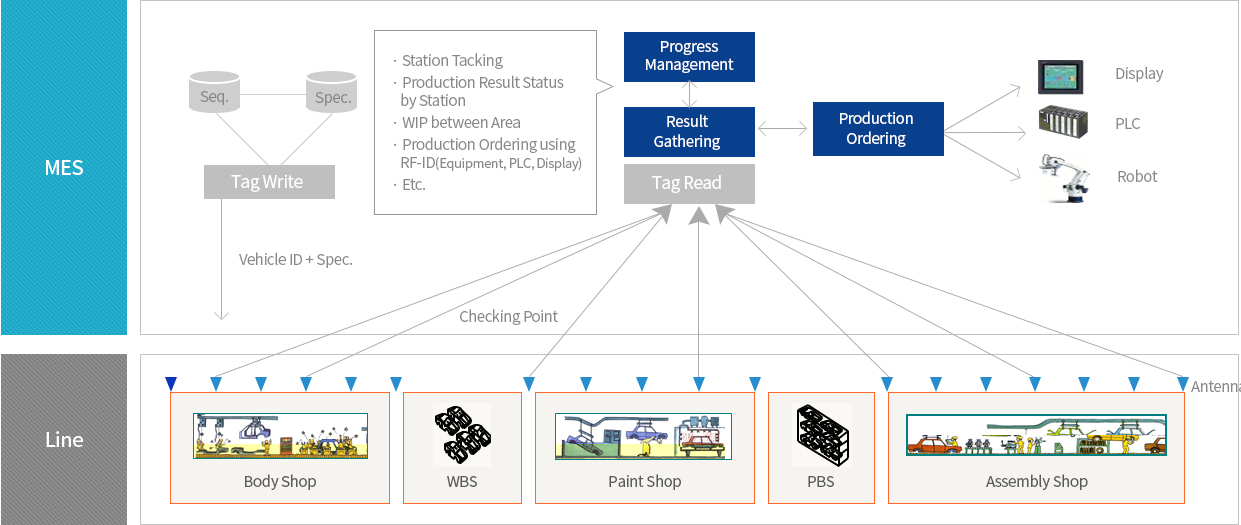 Characteristics of automotive manufacturing plant

Body Shop :

It consists of the sub line which produce the under-body, door, trunk, frame and so on, using robot or welding machine, and the main line which produce the complete body frame. It have the highest automation rate at automotive shop.

Paint Shop :

It consists of the primer station which remove the greasy spot and formed the film, the surface station which forms the 2nd level file, and top coat station which paint the final color. It is very difficult to enter the operator because it have the several high temperature ovens.

Assembly Shop :

It consists of the sub line and main line which assembles the vehicle using several parts, and it needs the synchronized assembling between stations.