The constant challenge for the KFA,
the leader of the Smart Factory, continues.
Products
Overview
Specification
Example
Field intelligent Solution Adapter

Currently, on-site management is an essential part of corporate management. In particular, gathering the field data is very important functionality for prevention of the accident and improving the productivity. "FiTSA" connect to various equipment on the site and gather all of data In addition to responding to temperature and humidity, it is highly reliable as a "field-strength" device to collect data reliably and in real time in difficult environments It also helps you work best with your customer's field with easy-to-customize with a variety of parts and software.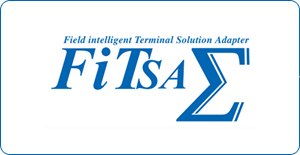 All the types of Device Connection
Real-Time Data Gathering
Data Storing and Processing
Database Access
Web Monitoring
Wireless Connection
Customizable to your site and requirements

Provides package software for interface to equipment

It can connect to various devices, because FiTSA is a Linux computer. In addition, it is easy to customize to work best on your site with the various parts and software. The combinable software is various including DB linkage software (embedded SQL client), PLC linkage software, instrumentation control standard interface (OPC XML-DA server) and measurement linkage software.
FiTSA Σ List of major
connected devices
Division
Maker
Device Name
Electricity meter
Fuji Electric
PPMC, FeMIEL, FeMIEL-WL
Fuji electric device control
F-MPC04P, F-MPC04S, F-MPC04E, F-MPC I/O Device, FePSU
GE Fuji Electricity Meter
Electronic Electricity Meter
Ibaraki Fuji
Eco Manager
Panasonic
Eco Power Meter
Omron
Smart Electricity Monitor
Takemoto Denki
Electronic Multi Meter
Orient Wireless System
μTURTLE-RW
Various sensors
Smimoto Precision Industry
neoMOTE
T & D
Temperature Sensor
Seiko Solution
Mister Energy Saving
I-Tech
Armin Series
Kuta Hu Tech
GL100-WL, GL840
May For Sys
LI-190R Photon Sensor, LI-820 CO2 Analyzer
PLC
Fuji Electric
MICREX-SX
Mitsubishi
MELSEC Q / QnA Series, MELSEC FX Series
OMRON
FINS Protocol supported devices
[Basic Type] Key products that connect your device and the cloud

Various types of interfaces are supported and field data can be collected.

Stores data in the cloud with a standard interface.
FiTSAΣ B4

FiTSAΣ typeAR
[M2M Type] Built-in 3G communication type

Simply plug in your SIM card to connect to your cellular

network and easily connect to the cloud.
FiTSAΣ typeM2M
LONWORKS® Network Support Protocol Converter

It is a protocol converter applicable to devices and systems without LONWORKS® network.

· Up to 1000 network variables can be used
· Each RS-232C / 485 is equipped each channel (independent communication)
· User programmable functions to support various network protocols
FiTSA typeL
IoT / M2M controller conforming to the ship IoT standard "IoT gateways on board"

You can easily connect various types of device in a ship to a shipboard server by using the FiTSA Σ corresponding to various types of interfaces. It also handles navigational data accurately and supports safe navigation.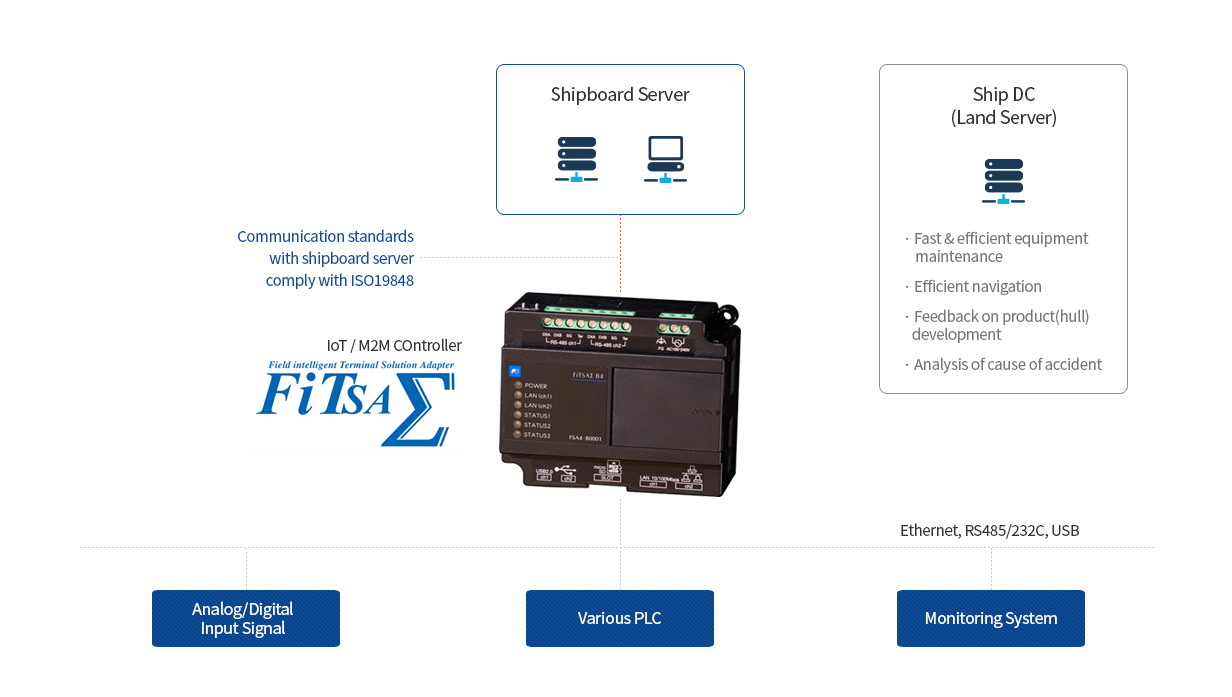 Device in Ship
Pump, Motor Valve, etc.
Scrubber device
Weather and navigation Device
Engine, etc.
Locker Monitoring Service "Locker Information"

Monitors unmanned locker status and fault information and displays information available on smartphone. The rest of the lockers are displayed on the touch panel and the smartphone at a glance, guiding the customer to the locker at the shortest distance "I have to carry around with a heavy baggage, but I can not afford it! How do I do this baggage?" It is a locker monitoring system in station that solves such inconvenience. It is possible to be unmanned monitoring the field and collect various information by using cloud system. It is a realizing system to make not only locker users but also locker managing company be satisfied.