The constant challenge for the KFA,
the leader of the Smart Factory, continues.
Products
Overview
Specification
Example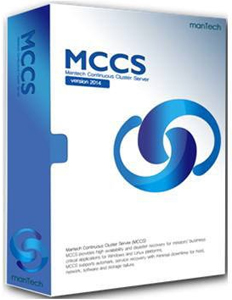 MCCS

In today's mission/business-critical environments, application services need uninterrupted operations.

Service downtime caused by failure is no longer acceptable. MCCS is designed to solve problems and

protect your critical applications against hardware and software failures (covering your servers,

application services, networks, and storage devices) , as well as failures caused by system and

application resource issues. MCCS keeps your mission/business critical applications running

24 x 7 x 365 days with automatic failover and real time data replication.

It also provides SMS alarms for fast notification of critical events.
Server Clustering

MCCS ensures all applications are available

24 x 7 x 365 days regardless whether the

failure is related to server hardware,

software, networks or storage.

MCCS protection is not limited to

'cluster aware' application, but covers

all types. Through server clustering,

downtime is minimized to

minutes and even seconds.

Real-time block replication

Block level replication ensures target

data is identical it's source. When mirror is

established between two server,

MCCS intercepts all writes to the source

volume and replicates that across

the TCP/IP network to the target

volume simultaneously.

It also supports all types of files and DBMS.

With this, you will not lose your mission-

critical data to failure and disaster.

Global dashboard

MCCS bundles a Global Management Center

in the Enterprise and Virtual editions,

and via the cloud for MCCS Workgroup Edition.

In a single view, you can manage all

clustered servers and availability reporting.
Function
Function
Detail Function
Fault detection and Auto-switching
Applications

Performs local restart for user specified count & times after failure detection for commercial application and user development application
Automatically switch to standby system when over user specified count & time

Disk I/O

Performs local restart for a user-specified count & times after detecting disk I/O failure
Automatically switch to standby system when over user specified count & time

Network

Performs local restart for user specified count & times after detecting a network failure.
Automatically switch to standby system when over user specified count & time

Real-time data replication

Real-time data replication from the operating system to the standby system in case of the absence of external storage
Block unit replication of data that has changed since the first Full Sync

Split Brain Prevention

Perform response test to external network when Split Brain occurs
Stop the service of the system that does not receive the response and perform the service online on the system that received the response.

Notification of failure

Real-time SMS notification of failure via EMS(Emergency Messaging Service)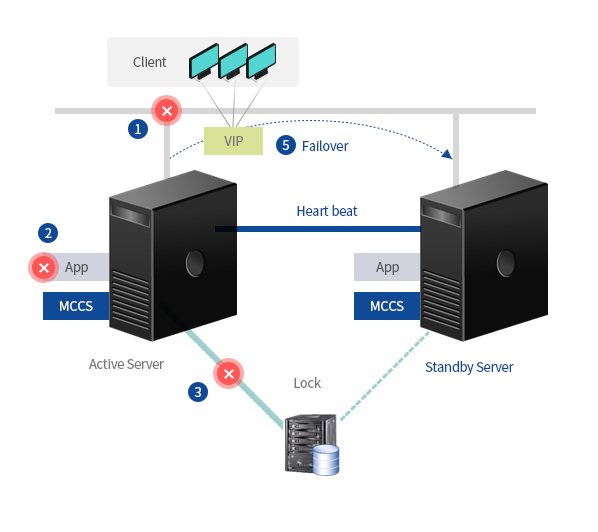 1.

Detect network failure of Active server

2.

Detect applications failure of Active server

3.

Detect failure of shared storage disk I/O

4.

Restart from existing server when failure is detected(User set up)

5.

Automatically switch to standby server if a failure occurs even after restart and send fault history as SMS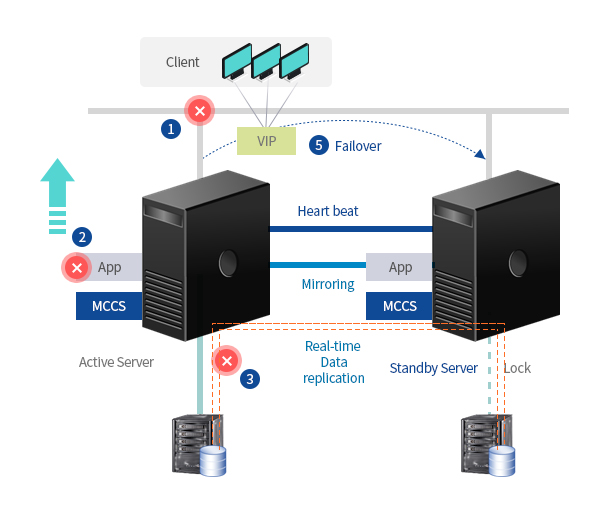 Real-time replication(synchronization) of storage data from Active server to storage on standby server
1.

Detect network failure of Active server

2.

Detect applications failure of Active server

3.

Detect failure of Active server's storage disk I/O

4.

Restart from existing server when failure is detected(User set up)

5.

Automatically switch to standby server if a failure occurs even after restart and send fault history as SMS
Various configurations according to customer's environment
External shared storage
Server-to-server replication
Remote disaster recovery
P – to - P
P – to - V
V – to - V