The constant challenge for the KFA,
the leader of the Smart Factory, continues.
Overview
Configuration
Example
Overview
The crane that transports the goods has a lot of swing when moving, and it is also difficult to shorten the cycle time because the movement deviations caused by Crane's operator are generated. Our crane control system with 'anti-swing control technology' improves work efficiency and safety by reducing vibration of goods while crane moving(acceleration / deceleration).
Effectiveness
It is possible to operate stably even beginners and using only robust basic functionality can make stability and efficient improve.
Reduce work time

Shortening cycle time by improving
efficiency by preventing swing

Improved safety

Prevention of accident such as contact
or collision when moving crane

Standardized work

Solving the problem of lack of
expert by standardizing work
Function
It can be applied to the crane of the major makers and can be added to the existing installed crane, so the existing equipment can be used as it is. In addition, the basic functions are so various that can set to accommodate different speed patterns and moving distance depending on the type of goods.
Anti-swing control function

You can reduce the vibration by changing the speed pattern according to goods.

Semi-automatic /
manual switching Driving

Anti-vibration control Operation and manual driving can be switched.

Fully automatic Driving(optional)

Fully automatic Driving function can be installed.

Pattern Driving

It drives with the speed pattern which is determined according to the distance of straight moving and traversing

Avoidance Driving

If you register an area to avoid in advance, avoid the position and drive.

Waypoint Driving

If you register a waypoint in advance, it will travel via that location.

Wrong Destination Warning

If the destination is registered incorrectly, warn through the check function before driving.
System Configuration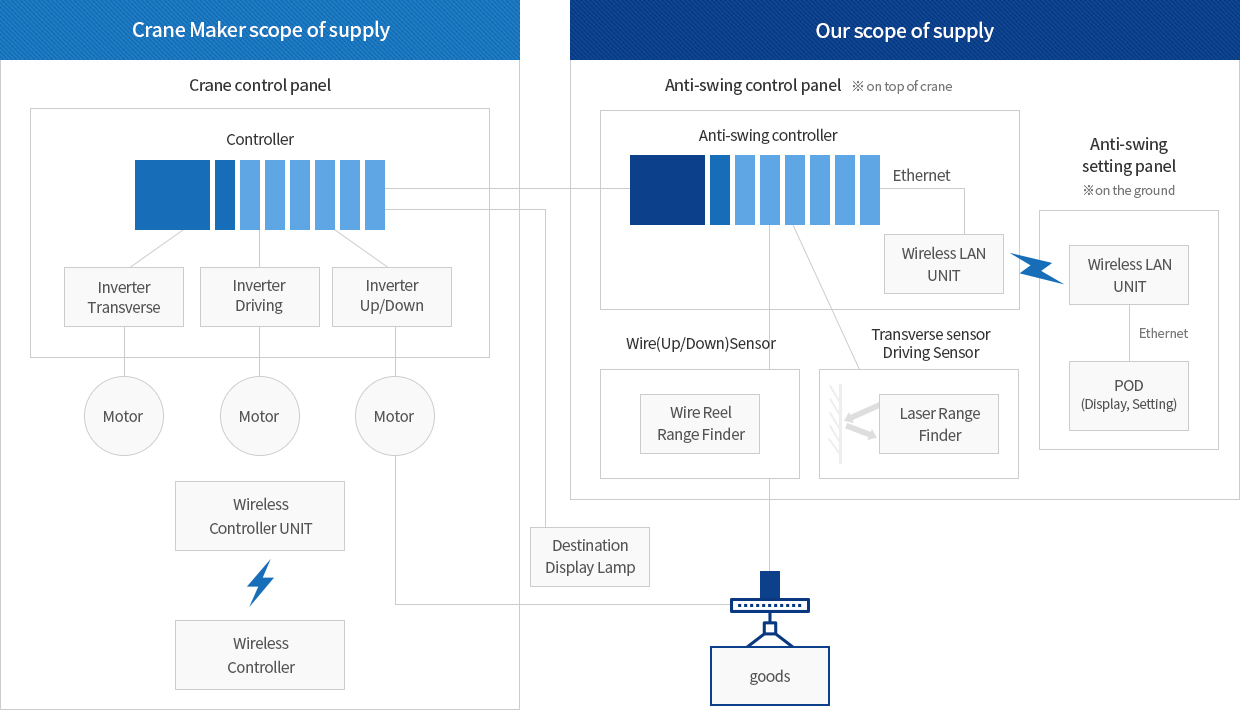 Application example
Factory Ceiling Crane System

This system significantly reduces waiting time for minute alignment and stop swing when moving to a crane or finding stocks.
Sample Screen
Target Location Setting

Mold Setting

Display Crane Status

Driving Trend